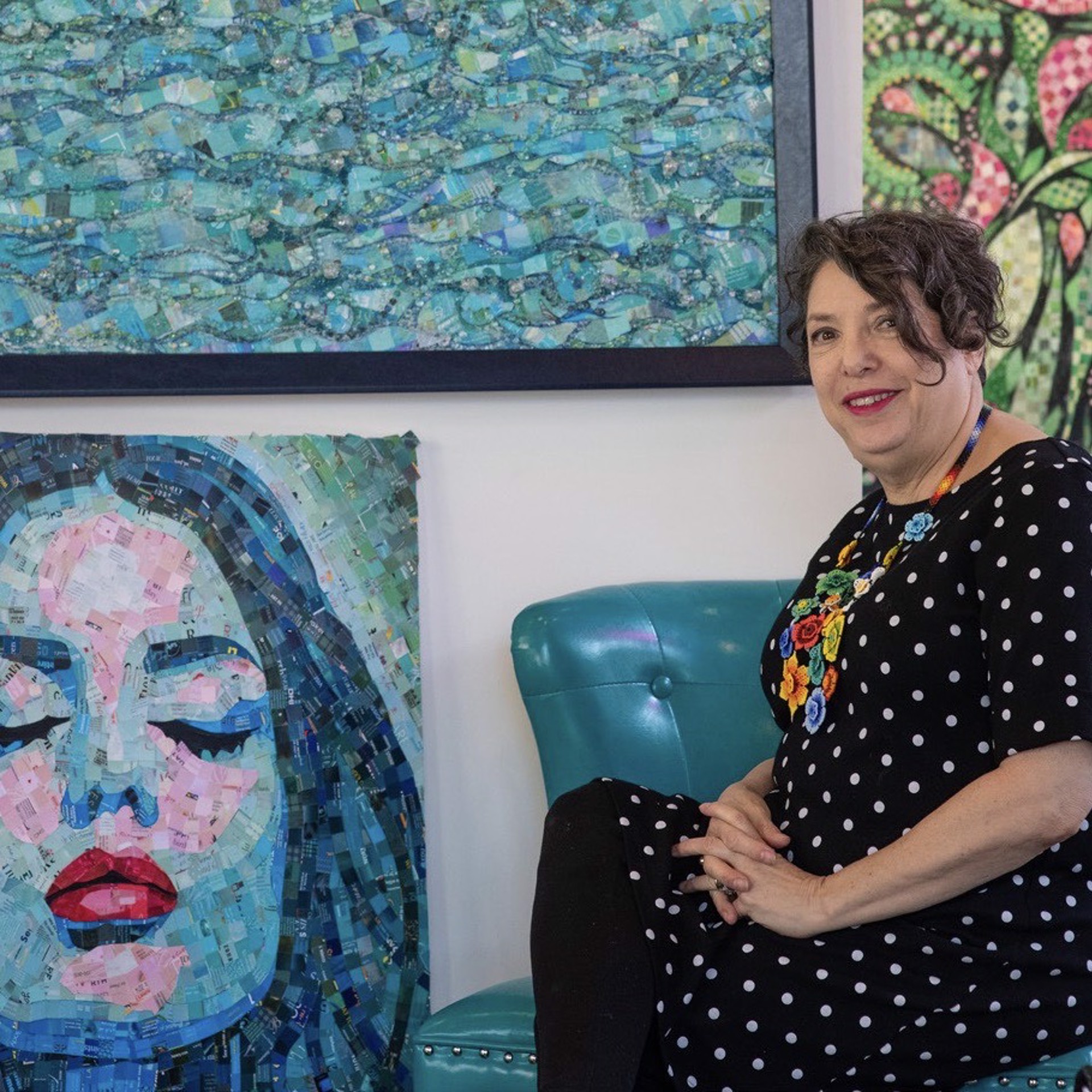 Sandhi Schimmel Gold, on 'Junk Mail Mosaics':
Necessity is the mother of invention.
I've been drawing and painting since I could hold a pencil or stand near an easel. Through school after school, I followed art and it shadowed me. I was a portrait painter [acrylics] for many years. And then... ​
About 30 years ago, I wanted to create portraits that looked like mosaics. About 20 years ago, after studying mosaics and working in tile, glass, stone... I switched to fashioning mosaic portraits in glass. I wasn't satisfied. Then, Eureka! Paper.
Paper is easier to cut than glass, and lighter, too. And ink colors are infinite.
As I searched for sources of paper beyond that box of old greeting cards, I noticed that the junk mail postcards, greeting cards, business cards, photographs, maps, catalog covers, packaging, and other paper ephemera were entering my home via shopping trips and... 6 days a week in the maibox. ​
So, back in 2000 the experiment became a vision made real. Since then, my work has been shown in museums, galleries, festivals and art fairs, and is in permanent museum, corporate and private collections all over the world. It's been featured in all sorts of media... from radio to newspapers, national and international periodicals, and even several television shows; everything from PBS to Access Hollywood. ​
A professional, full time artist living in Richmond, VA, I create images out of my head, create concepts from my imagination, draw using just two eyes and one hand, and very simple tools: a pencil, paint, brushes, paper, water-based lacquer, scissors, an exacto knife & glue -- and an old-fashioned guillotine [not necessarily in that order]. ​ I stay busy creating custom work, experimenting, and working out my issues and dreams through paper.
Read More